Friendly, Dedicated People, Wonderful Horses
Good Times, Great Care.
---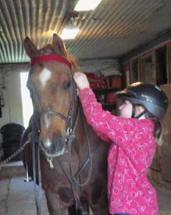 Fall is around the corner and it is Back to School.

Now is the time for the parents to try riding (or get back to it!). You have been watching your young family members enjoying riding all summer. While the kids are in school and you can have the farm to yourself, why not try a few lessons. First time rider? Need brushing up on your skills? We can help. Stop by and talk with Diane and lay out a plan.

Whether your world turns around pleasure riding outside of the show ring or showing and competing, safety and proper riding skills should be your goal. Let us guide you in the proper technique. Many riders have the ability to keep their horses on their own property, but need a place to come for lessons. Other riders need a home away from home for their equine friends. We can help with lessons, instruction and stabling in a friendly and safe atmosphere.

The Holiday Season is also coming up and Gift Certificates are always available to fit any budget and are a great way to bring a smile to any rider. Give us a call and set up an appointment to talk about your needs and dreams.


Owned and operated by Diane and Chris Caverly, Sunswept Stables reflects a warm, family like atmosphere, while providing superb professional care and instruction.
Sunswept Stables is located on the south side of Dover, New Hampshire, close to UNH-Durham, Portsmouth NH and Rte 95 and 16. Situated next to 400 acres of conservation land our location offers beautiful fields and forest to view and enjoy, while spending time with the horses; riding, driving or just hanging out !
---

Please make yourself at home on our site. Feel free to contact us.
We will be happy to talk with you.
Since 1988, Sunswept Stables has offered training and boarding for pleasure and show horses, as well as lessons for beginner to advanced levels in pleasure or show riding and driving.

Although we have made a name training and boarding Saddlebreds, Morgans and Hackney Ponies, we welcome all breeds and disciplines to our stable.
Everyone can benefit from the training and boarding services we have to offer and from our hands on approach.

We have tried to give you a snapshot of the services we have to offer here at Sunswept Stables. We know that you will have questions about our facility, our programs and our philosophy.